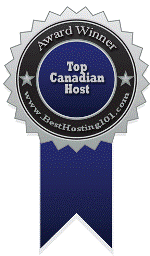 "I have been a customer of Metric Hosting Ltd. for more than a decade and I am very satisfied with their friendly client service. They respond to my enquiries on technical issues very timely. They also provide me with professional and technical advice. I would recommend their service to anyone!" Catherine Johnston - hunggarkuen.com
February 18, 2013
Hello everyone!

We're excited to announce that we've successfully upgraded our servers and software. We now bring you:

More Web Space
(5x More!)
Upgraded Transfer Space (25x More!)
Free Softaculous Webtools to our web design clients!

To find these new offers, browse our Web Hosting and Website Design pages.

We look forward to hearing from you! -Josh & Ben
January 10, 2013
We wish all of our customers the best in the new year and plan to roll out a whole new Metric Hosting in 2013.
November 25, 2012


Metric Hosting Ltd. wins Web Host Ranking's Best Candian Host Award. Thank you to all of our customers for their continued support and to Web Host Ranking for taking the time for review our business.
February 1, 2012
We are now proud to be accepting Paypal and credit cards through Paypal. Our next step is to set up online payments and signups.